2019 Chevrolet Cruze: A compact sedan worth discovering
October 31 2018,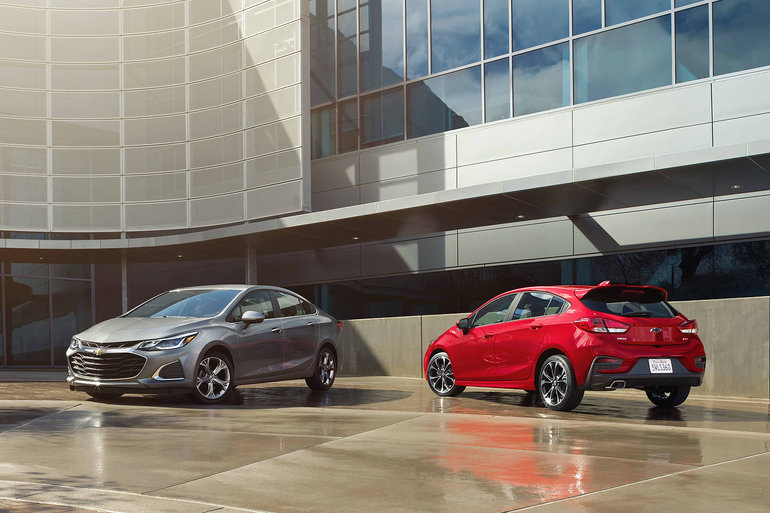 The new 2019 Chevrolet Cruze is a compact sedan that has a lot to offer, no doubt about that. One of the best-selling cars in its segment, the Cruze offers two engines, two body variants and several versions. You will have no trouble finding the Chevrolet Cruze you want at Surgenor Ottawa.
Several engines and a range of versions complete with the 2019 Chevrolet Cruze
Starting at $ 18,345, the new Cruze comes standard with a 1.4-liter turbocharged four-cylinder engine. The Cruze is therefore one of the only cars in its segment to be powered by a turbo engine at no additional cost. Developing 153 horsepower and 177 lb-ft of torque, this is one of the most powerful engines in its class as well.
Despite its impressive power, the Cruze remains fuel-efficient with an average fuel consumption rating of only 8.0 liters per 100 kilometers in the city and 5.9 liters per 100 kilometers on the highway.
That said, if fuel consumption is your primary concern, the Cruze also offers a diesel engine with 137 horsepower and 240 lb-ft of torque. Yes, you read that correctly, 240 lb-ft of torque. Better yet, the Cruze Diesel needs just 7.6 liters per 100 kilometers in the city and 4.9 liters per 100 kilometers on the highway.
The Cruze comes standard with a six-speed manual transmission while a six-speed automatic is optional. Surprisingly enough, the Cruze is very fuel-efficient despite the fact that it uses a traditional automatic transmission rather than a CVT.
In other words, you'll get a more natural driving experience while enjoying the fuel economy of a continuously variable gearbox.
A more versatile version of the 2019 Chevrolet Cruze
Finally, the 2019 Chevrolet Cruze is available in a hatchback version starting at $ 23,045. With the Cruze Hatchback, you get a cargo area that can hold 699 liters, more than the Toyota Corolla Hatchback or the Mazda3 Sport.
For young couples or active families, the Cruze Hatchback is the perfect partner. That said, even the sedan features impressive cargo space with over 400 liters.
No matter which Cruze model you choose, you get a ton of standard equipment. You also get exclusive technologies like Wi-Fi Hotspot which you won't find in a Toyota Corolla, Mazda3 or Honda Civic.
Come discover the new 2019 Chevrolet Cruze today!